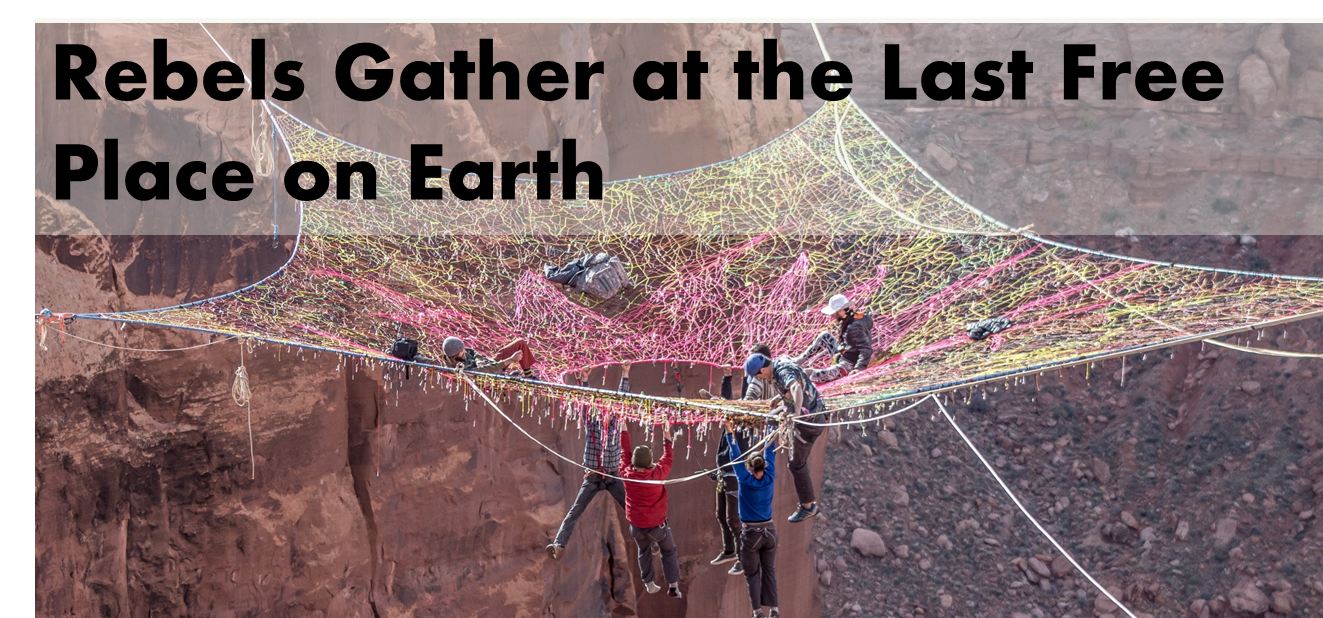 "If you think about falling, you will fall. If you get scared, you will fall. You need to notice how good that webbing feels on your bare feet as you walk across the line and embrace the exposure and fear that comes with it. Don't fight it, enjoy it, and cherish this present moment."  – Anonymous Participant 
This was exactly what I heard moments before I sent (the high-liners' term of walking across a line without falling) my first high-line!
Nothing can describe what I felt on that line. Afterwards, I felt alive.
My screams of joy and cheers from the surrounding spectators and professionals "stoked" for my achievement (on the smallest line at the gathering, I might humbly note) further exemplifies this connected, supportive community.
The Fruit Bowl | Moab | UHD 4K from Anthony Swann on Vimeo.
Every Thanksgiving, a group of rebels gather at the Fruit Bowl in Utah for 7 days, to get lost and experience life in the present.
"You can go anywhere and get lost. That is why you are out here. It is really nice to get lost sometimes – especially with a group of people." – Sketchy Andy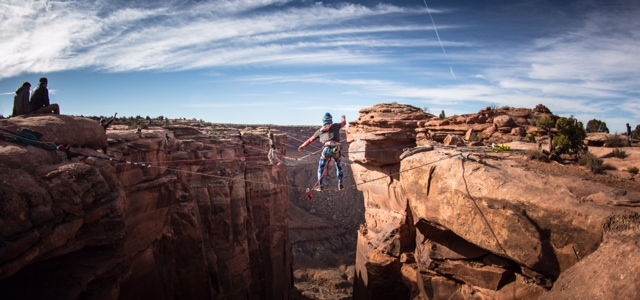 With no rules or regulations the community of rebels pushes the limits. 
They run off cliffs into the abyss with only parachutes attached to their backs. Tethered by just a harness, they walk on 1 inch wide pieces of webbing hundreds of feet off the ground (they call this high-lining), and glide down to a gigantic, human-made spider web or space net about 50 feet across in diameter. There, they can just hang out for the day…or base-jump off—a mere 400 feet in the air.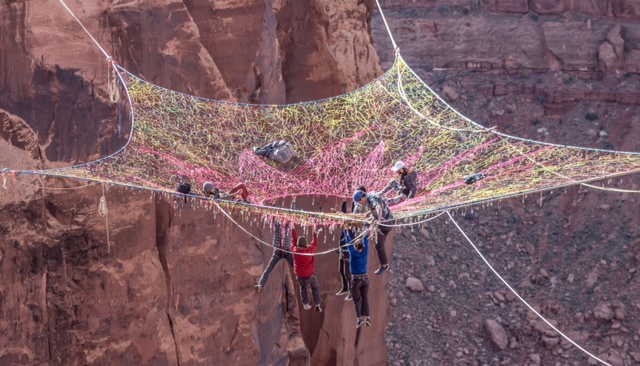 The group started back on Thanksgiving of 2005 at Gemini Bridges, but moved to the Fruit Bowl location in 2008 after founder Terry Acomb discovered the perfect high-lining location on Google Maps.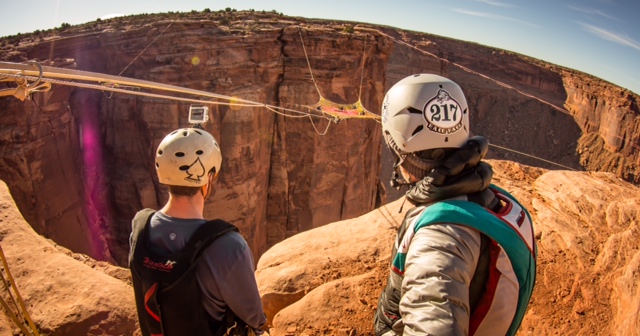 "I never saw it coming. I remember when I founded the place thinking maybe in 10 years we'd have a little gathering or something…8 months later, we had our first." – Terry Acomb
That first 25-person group sat drinking around the fire after a memorable day and tried to come up what to name this gathering until "Gobble, Gobble, Bitches Yeah!" or GGBY for short was born.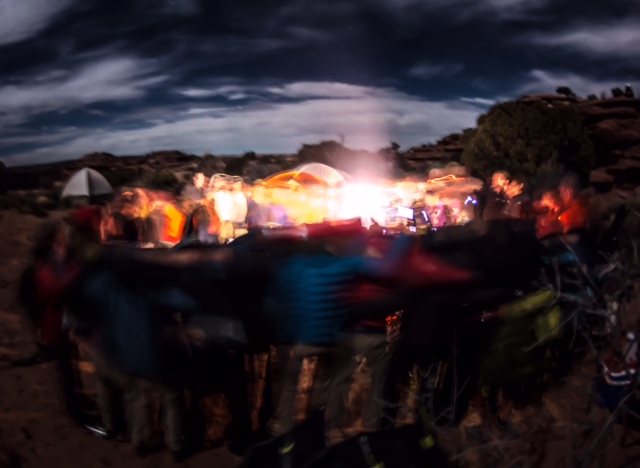 Fast-forward 7 years, and here I sit, writing about GGBY 8, which attracted hundreds of thrill-seekers.
Although this community consists of mainly high-liners and base-jumpers, all are welcome.
"It is what it is to you. If you want to bring something to the table, you can. If you don't, you don't have to. There are no expectations." – Sketchy Andy
With no promotion of the event, no clear organizer, and the regulars' sincere desire to keep this gathering informal and unregulated, the only way to joinin is to already be part of the niche community or to get an invite.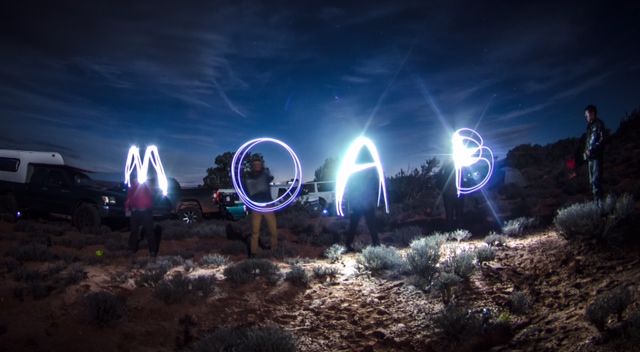 And for 7 days together in the desert cliffs of Utah—with no showers, phone reception, resentment, jealousy, pride, or worry about the past or future—we consistently push boundaries to become fearless. The resulting community of life-seekers and the indescribable atmosphere are full of excitement for small things, genuine laughter, and smiles that just won't go away.
In an effort to put a word to this perfect storm of living to the fullest, the best descriptor might be "STOKED!"

Stoked to be alive, breathing, and feeling as you walk on a high-line hundreds of feet above the ground, or run off a cliff to soar like a bird before your parachute catches and saves you from certain death.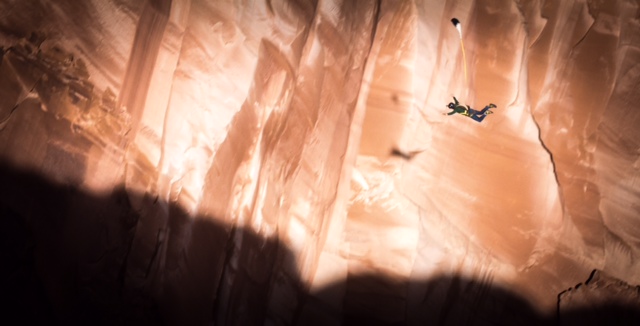 After traveling to over 33 countries, consulting for million-dollar tech start-ups, founding multiple successful companies with friends of all walks of life ranging from rock climbing dirtbags, to circus hippies, to entrepreneurs and corporate businessmen, to attorneys, to international travelers, and everyone in between…
Without getting too sentimental, this experience was one of the most magical experiences I have had to date.
Together we were rebels, got lost, felt stoked, and became fearless.
Did you go to Gobble, Gobble, Bitches Yeah 8 or previous gatherings? What are your thoughts and experiences from this gathering? Please let me know in the comments below!
—
Photography by Kieth Robinson
The following two tabs change content below.
Todd VanDuzer is co-founder and CEO of Student-Tutor, an inspirational leader and speaker for high schools and companies across the country, an avid rock climber, adventurer, world traveler, and more. He is driven by the need to help others go after their dreams by setting lofty S.M.A.R.T (specific, measurable, actionable, realistic, and timely) goals while having someone to hold you accountable. Todd is preparing to embark on a 5-year trip around the world in his van to help challenge, motivate, and inspire students to take charge of their lives. Follow Todd via Instagram or Twitter!
Latest posts by Todd VanDuzer (see all)