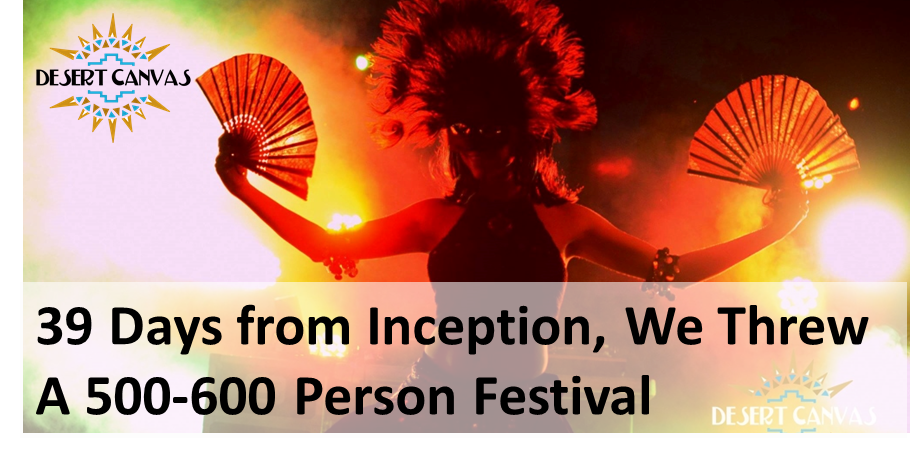 If you've been following my social media antics, chances are you've heard about Desert Canvas: Rebirth —a giant festival we threw with the help of a wonderful, committed group of people.
And we pulled it off with only 39 days to prepare.
What does that mean? Well, it means that 39 days before the festival, we had:
No website

No vendors

No sponsors

No artists

No volunteers

No appropriate permits or licenses

No approval from the city of Tempe

No experience
We also had no money—we were all young (21-26) kids with full-time jobs, trying to make this happen.
But in 39 days, we were able to pull everything together, and ended up with a festival that had a beer garden, live musicians, classes on sound healing and yoga, a giant drum circle, slacklining, volleyball tournaments, a huge dance party, and between 500-600 passionate, excited attendees who left the event stoked for the next one.
Heck we even got rated a 9 out of 10 by Festival Squad who wrote a review on us!
How'd we do it?
We practiced what we preached.
The core tenets of Desert Canvas are believing in yourself, being fearless, and getting outside your comfort zone. The event happened because we followed the same exact rules that we preached.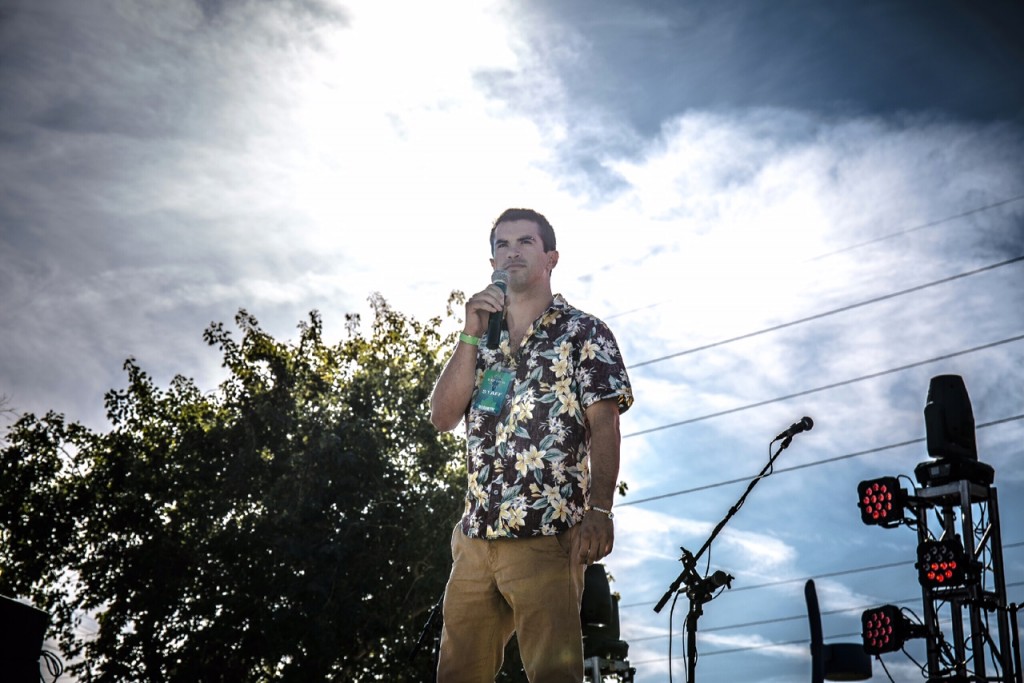 We were fearless. Went into the event fully believing. And we sure as heck pushed ourselves outside our comfort zones.
39 days before the event, the Desert Canvas leaders had a meeting. I decided that we needed to step it up a notch and start charging for events–$25 after fees, per person. So many people were so against it, saying things like "I don't know if we should charge–I don't know if people are going to pay for our event," and I said "Heck yes they are! We need to start acting like we're the best!"
Because that's how you become successful. We told everyone that we were going to become a major event provider in Arizona, and that we plan to create a massive national festival in the future. Because in order to get there, we needed to start believing that we were already good enough to get there, and start pushing things in that direction.
So I pushed them. And I kept pushing. And as I pushed my team members to believe, they started to believe in what we were capable of. Then they started pushing everyone else including me, and we all started watching the movement grow.
All you have to do is believe in your mission. And as you start believing, others will start believing. All it takes is one or two people that really agree with you, and want to work with you to build something that everyone else can believe in.
Once we were all on board, it was just about getting things done, with a hard deadline 39 days away.
REBIRTH – A Conscious Festival by Desert Canvas from Anthony Swann on Vimeo.
We pushed past the people who tried to bring us down.
When you start telling people what you want to do, people don't believe you can do it. Nobody thought we'd become a legit festival and could actually throw an amazing event that big and that quickly.
We needed to charge to survive, because in order to make the festival bigger and better, everyone working on it needed to be able to put food on the table. But at first, people were mad that we were charging, thinking we were just trying to make a quick buck. They couldn't see the value we were going to put behind it.
Because of this, it was funny to see people who initially didn't get it but came to the festival anyway, and then walked away totally stoked for the next one.
When you're trying to push something and make a change, realize that most people won't understand what you're capable of doing, and they'll try to bring you down. But what they can't do is stop you. So shut 'em off and be okay with being hated for a little bit. Because eventually, you are going to make it. And you're going to change things, and move things forward.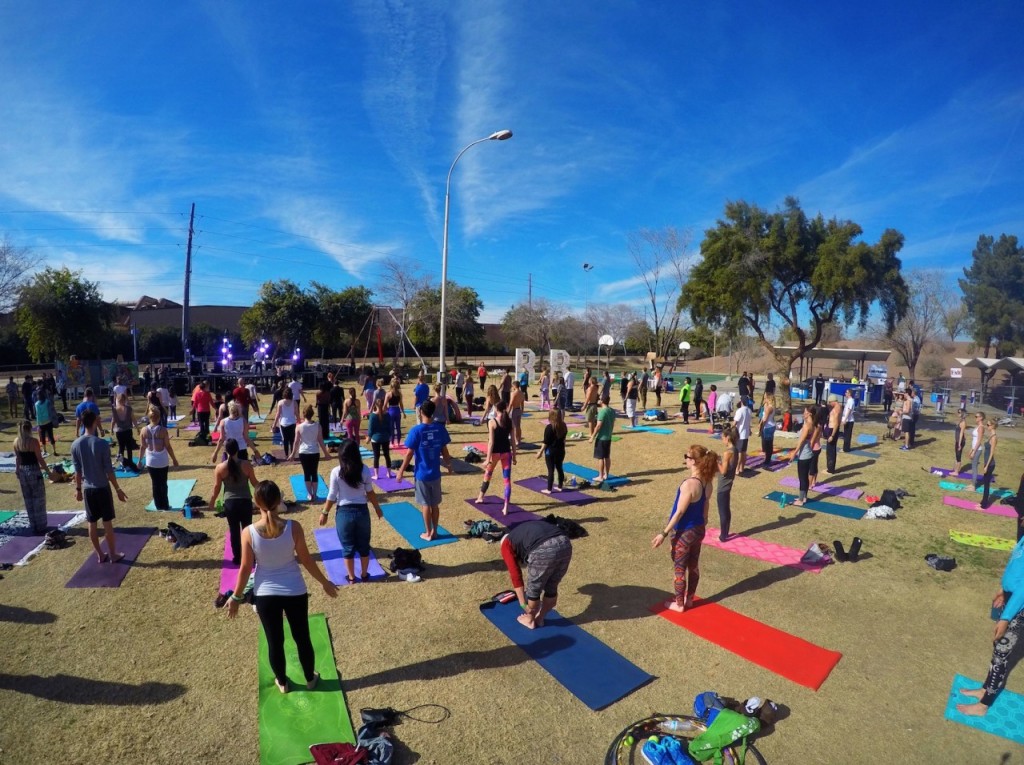 Photography by Stephanie Rosa. See entire Rebirth festival gallery by clicking here.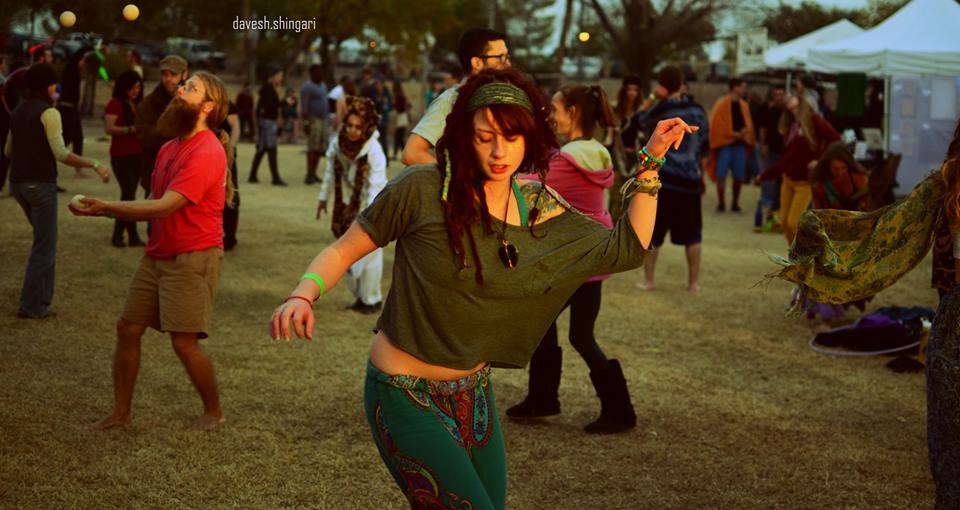 Photography by Davesh Shingari. See entire Facebook gallery by clicking here.
If we didn't know how to do something, it didn't matter. It was about "Get it done. Figure out a way."
And everyone lived that principle. Figure out a way to sell 500 tickets. Figure out a way to get these volunteers, get these sponsors, get this past the city, to get the artists to the festival. Push it. Be persistent.
Of course, there were things we needed help with, and some people helped because they heard what we were doing and liked that we were so passionate about it. My friend Skyler gave us $500 of free ads on Facebook, which really helped us out. My friend Will, CEO and owner of Endless Entertainment donated his time and staging equipment. Artists came and performed for free, knowing that we were just getting started, and happy to partner with us on our journey.
One of our partners was Relentless Beats, who gave us $700 to build a massive art installation at our event (which doubled as an advertisement for them, because it was in the shape of a giant "R" and a giant "B"). And that was the first stepping-stone to believing, because the biggest event-provider in Arizona really saw what we were capable of doing.
We got other sponsors to join in because they started believing, too.  Local food vendors came to our event and made a hefty profit, which is exciting because it means that we were able to help these local businesses grow, even if it was just a little bit.
There was no magic formula. Nobody on the team was any smarter than anyone else. It was just about okay, how can we get this done?
Conclusion
If you're sitting at a table, and you want to move a glass of water to the other side of the table, what do you do? You just reach up and move it to the other side.
And that was how we accomplished this massive thing in such a short period of time—we just did it, and didn't let anything stand in our way.
Rebirth is about new beginnings, new friends, new dreams, being fearless. And that's how this major event started–from the same principles we talk about.
We created an event that Tempe has never seen before, that was so different and unique that people are still talking about it–and people are excited for our next one.  We created loyal participants, as well as a community that's really helping individuals step outside their comfort zones, learn about themselves, and live happier and healthier lives.
I also want you to know that I'm thrilled about the event—but I'd still consider it a B. I know there are certain areas we could definitely improve, and that's important—to keep pushing and never grow content. You can always be better.
I'm looking forward to our next event Munduzer, April 8th -10th for a 2 day camping festival when we can do an even better job! If you haven't already make sure to join our email list to get access to tickets when they are released by clicking here! 
Did you attend Rebirth? What was your favorite part? Please let me know in the comments below! 
The following two tabs change content below.
Todd VanDuzer is co-founder and CEO of Student-Tutor, an inspirational leader and speaker for high schools and companies across the country, an avid rock climber, adventurer, world traveler, and more. He is driven by the need to help others go after their dreams by setting lofty S.M.A.R.T (specific, measurable, actionable, realistic, and timely) goals while having someone to hold you accountable. Todd is preparing to embark on a 5-year trip around the world in his van to help challenge, motivate, and inspire students to take charge of their lives. Follow Todd via Instagram or Twitter!
Latest posts by Todd VanDuzer (see all)