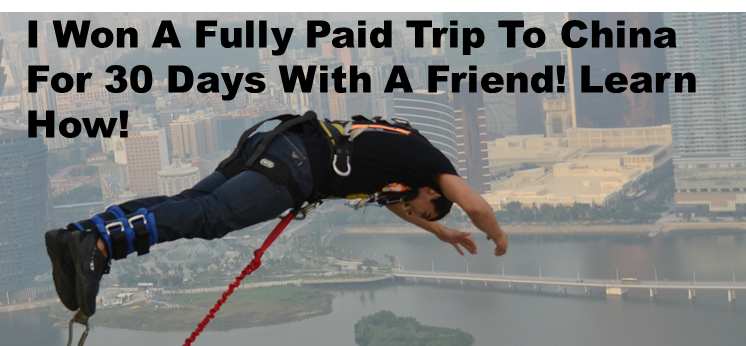 Yup that is me bungee jumping off the worlds biggest bungee jump in China. A mere 233 meters height.
You know those contests that sound like they can't possibly be real?
The ones where they say they'll fly you and a friend to a foreign country for 30 days with $7,500 dollars of spending money? And on top of that, they say they'll start your adventure in New York City with a fancy, press-covered going-away party?
If you're anything like I was, you probably see these contests and think, come on. There's no way this is legit! Do people actually win these?
Well, surprise—the answer is YES. The above actually happened to me. How?
It started like most stories do: with a breakup.
It was April 2010, and I had just lost my first love. I was devastated, and trying to figure out what I wanted, and who I was…and somewhere along the line, I landed on my love of travel.
Why not take a three-month backpacking trip to Europe?
And, better yet, what if I could get paid to travel? The idea of experiencing new cultures and meeting incredible people around the world on a sponsorship sounded incredible, and I immediately set to work.
With the entrepreneurial mind constantly running, I decided to take 6 Bud Light beers with me. My plan was to film people drinking them, create a two-minute advertising video, and then pitch it to Bud Light. Ideal outcome: they would sponsor me on a year-long world trip.
After an adventurous three months which included hitchhiking from Frankfurt to Munich, 2 bungee jumps, 2 music festivals, a random job at hostel-and-pub-crawl in Poland, hundreds of new friends, tons of footage, and 13 countries total, I came home to create the finished video and business plan.
See Business Plan Here: Bud Light Social Media Proposal Plan
The pitch was a failure.
I must have talked to hundreds of different people and pitched them my idea. I connected with professors, influential businessmen, and anyone who would listen.
But even though people claimed they loved the idea, I couldn't find anyone to invest. My dream of getting paid to travel started to seem far-fetched and childish. After months of getting nowhere, I began to stop believing and slowly gave up.
Cue a second breakup, two years later.
 I felt like I was caught in a time loop. Looking for adventure, a friend RJ and I took a two-week trip to Australia.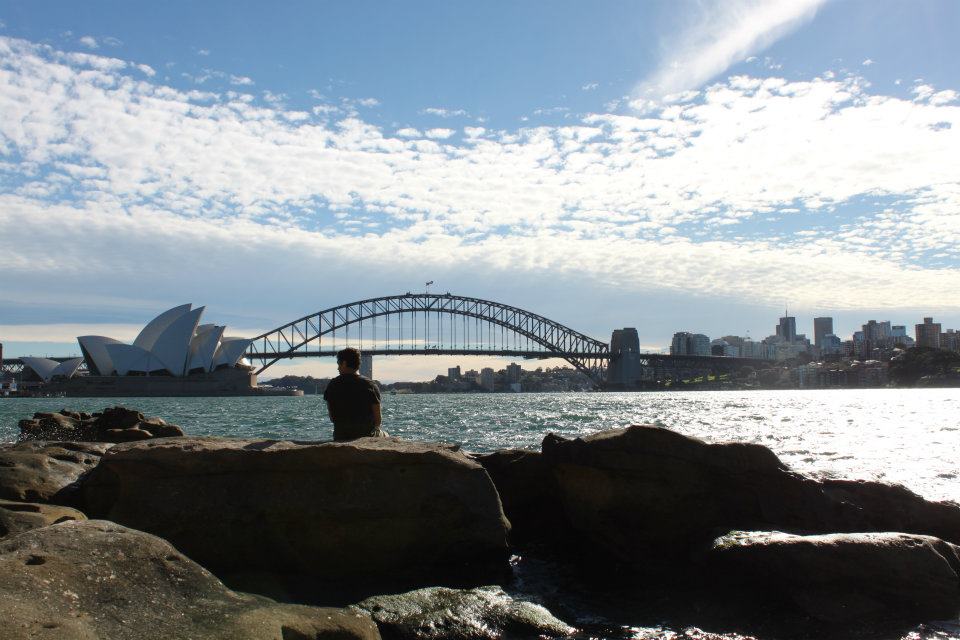 A month later, I got a message from a girl I'd met only briefly in the library a few years before. Her name was Hannah, and she told me that the day we met, I inspired her to travel. Now she was headed to Australia, knew I had just been there, and wanted tips.
Excited that I inspired her, I responded in-depth, expecting that I likely wouldn't hear from her again.
Until the next morning, when I woke up at 5AM to train for the half-Ironman I'd been working towards.
 I rolled over, checked my phone, and saw a text from Hannah, telling me to apply to a contest.
 Contest? What? I clicked the link, and my old dream flashed up on the screen. A 30-day, fully-paid trip (with a friend!) to China or India, in exchange for promoting the company via social media.
I stared at the screen, amazed that this had fallen into my lap.
But the video guidelines didn't match the video I had already made. Short on time, I went ahead and submitted what I had, and then left for my eight-mile run.
20 minutes later, I got a call from the company's head of social media.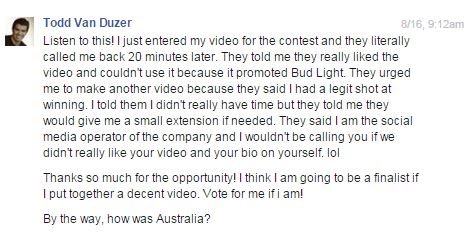 I cancelled my plans for the weekend. I called up my friend Russel, a video expert, and asked if he wanted to partner up. In exchange for a better video, he would be my plus one for China.
Here's our final video. (Watch out–I dress up like a girl!)
Three days later, I was a finalist.
Over the two-week voting period, I could see where I was ranked online, and knew I needed to get to first place.
With the network I had built from my Bud Light pitch days, and with my location at one of the biggest universities in the country, I had no trouble drumming up votes in volume. I went to computer labs, huge lecture classes, and more to get people to vote for me.
I kept watching the website, and reached first place—and then stayed there.
When the phone call came ten days later, I already knew that I had won.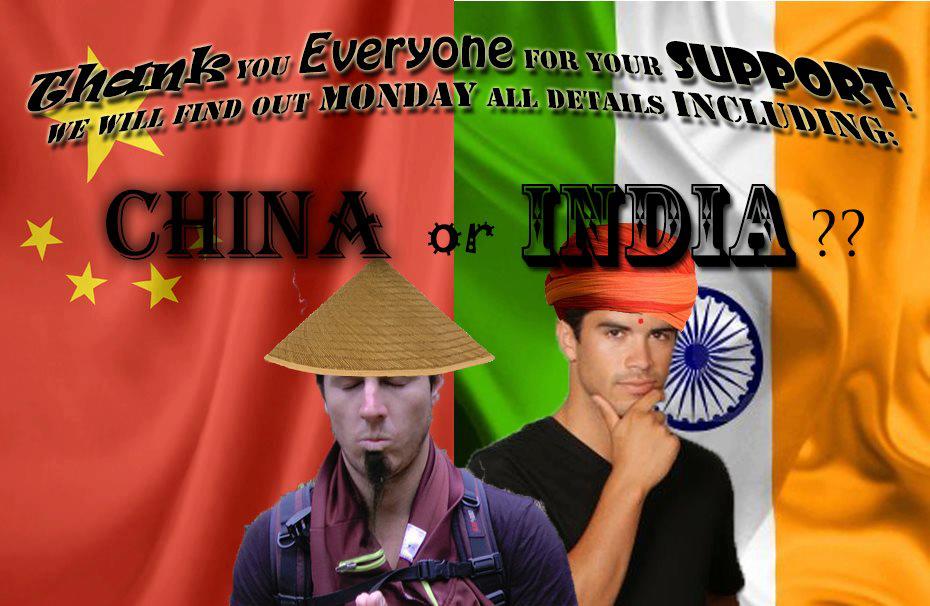 But my excitement at that moment cannot be understated.
They flew a friend and I to New York City, threw us a huge party, and then sent us off to China. Unfortunately Russel was unable to make it due having Foreign Passport so I invited a friend that I considered more of an acquaintance at the time Maxwell Swan. For thirty days, we explored the country, chatting with locals, trying scorpions, having adventures, and promoting it all via social media.
Check out the video we created here!
It was incredibly surreal. Who would have thought that a dream I had given up on two years beforehand would unexpectedly come true? But there I was, getting paid to travel.
Why am I telling you this?
 For two reasons. First: Have the courage to try.
When you have big, unlikely dreams, it's easy to write them off as impossible to achieve. But most of the time, half the battle is just showing up.
If I hadn't taken the time to create that first video for Bud Light (even though it was a "failure"), and then had the courage to submit it to the China contest (even though it didn't fit the contest specifications), I would never have gotten that vital phone call from the head of social media.
I would never have known that my dream was within reach.
Second: Dead ends can actually be stepping-stones.
 I could have easily looked at my initial pitch failure as a dead end. But in reality, the network I built, plus the video I made, turned out to be crucial ingredients that helped me win that contest two years later.
This goes for anything. Maybe that off-the-wall interactive resume you create doesn't get you the job…but six months down the road, the person who reviewed your application remembers you and recommends you to a colleague seeking out-of-the-box designers.
Maybe your job as a bookstore cashier feels like a dead end, but years later, when you start a small greeting-card company, that bookstore is the first business to sell your merchandise because they know and trust you.
Any time you put in legitimate effort and do your best work, it is never truly a waste.
Ask yourself, what did I learn here? What can I use in the future? Whether it's connections, content, or even a better understanding of pitfalls to avoid, it still counts as a stepping-stone.
Cheap O Air gave me $7,500 to travel around the world with a friend for a month, and all I had to do in return was promote them via social media.
Even when your initial plans don't work out, there's no telling where they might come up again…and which unlikely dreams will be realized.
What are your thoughts? Have you had any experiences where things just magically seem to happen? Let me know in the comments below!
The following two tabs change content below.
Todd VanDuzer is co-founder and CEO of Student-Tutor, an inspirational leader and speaker for high schools and companies across the country, an avid rock climber, adventurer, world traveler, and more. He is driven by the need to help others go after their dreams by setting lofty S.M.A.R.T (specific, measurable, actionable, realistic, and timely) goals while having someone to hold you accountable. Todd is preparing to embark on a 5-year trip around the world in his van to help challenge, motivate, and inspire students to take charge of their lives. Follow Todd via Instagram or Twitter!
Latest posts by Todd VanDuzer (see all)