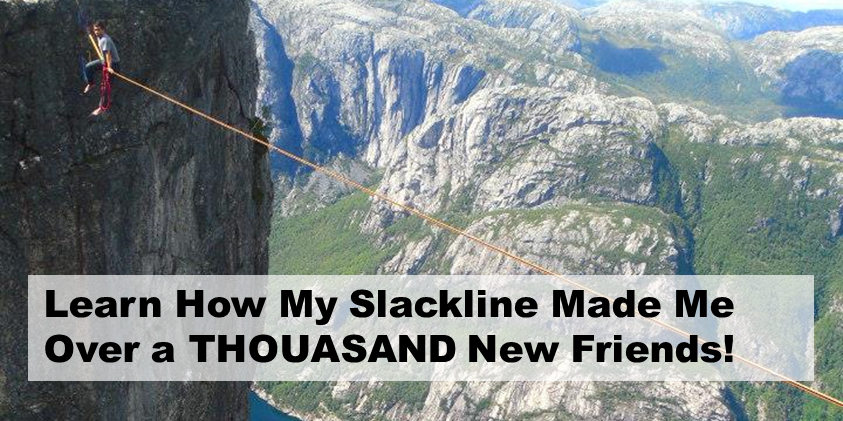 About 1.5 years ago, I decided I wanted to learn how to slackline. So I went to a park with a friend, and set up a slackline between two trees.
Little did I know, this was the start of a movement.
A movement we now call Desert Canvas, with plans and goals to hold a 50,000 person festival by 2030 and help grow communities worldwide (Yes YOURS included) that help people from all walks of life step outside their comfort zones, learn about themselves, and live happier and healthier lives.
So how did this movement start? How did it go from just me and a slackline to over a thousand active members?
I'd like to say it just happened, because at this point, it really does feel that way. But if I look back and analyze milestones that brought us to where we are today, I realize this is 100% not the case.
We got where we are today with a mixture of passion, focus, persistence, confidence, and most importantly, community teamwork.
And what attracted so many outsiders? It was our community's genuine desire to challenge and inspire each other, embrace our true selves, and contribute our unique gifts.
I mean, how couldn't a community like that gain a following?
People came to our group and felt at home. There was no need to try and persuade others to get more involved. It just happened naturally, due to the unspoken values the group was built on.
I never wanted this group to be my group.
I wanted it to be our group. And I wanted to stop using the word I.
Yes, I use it a lot. Yes, I've written entire blog articles about who I am, and what I do, and how I wear Hawaiian shirts every day. But still, the fact remains that it's such a selfish word. Most of the time, when you make an "I" statement about you're achievements, it's misleading… I mean, how could you possibly think that you got there all by yourself?
I'll be the first to admit that I love it when people send me messages telling them how "I" inspired them. I love it when my friends tell me they are proud of the things "I" have created.
And it is perfectly normal to feel a sense of accomplishment when these things happen…BUT it can also be dangerous, because you're giving yourself more credit than you deserve.
Anything great in life was not accomplished on your own. It was co-created. And when you embrace co-creation, something magical happens. Suddenly, other people want to get involved, and as a team, you begin to build something that is bigger and better than any of you could have ever dreamed.
However, this alone is not enough to build a community.
A successful community also needs a clear vision that us marketers like to call branding.
An organization's brand is what moves the organization forward, and brings unity. It grows from a shared view of what we stand for, and springs from priorities the entire organization holds dear. It is fueled by the unspoken, often unconscious, knowledge that each person could flawlessly represent the organization's mission and vision to others.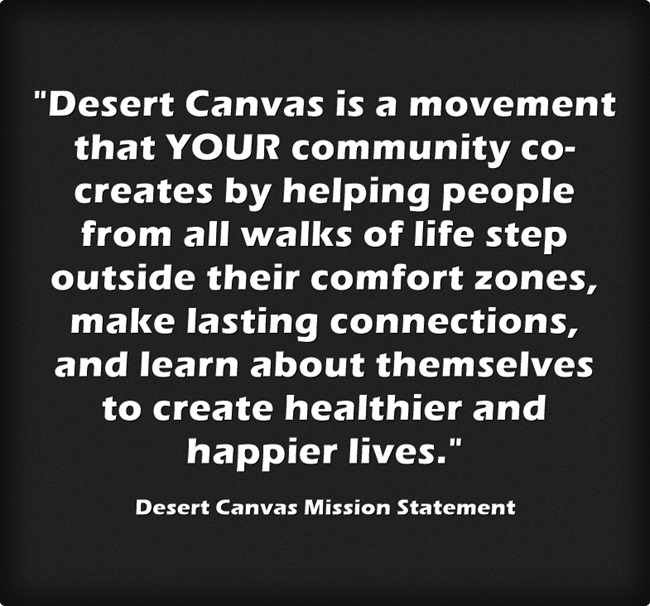 Our Core Values Include:
Creating Communities: We understand that taking a concept from idea to conception is hard. We value those who genuinely want to help our community and do everything we can to support them in this process.
Co-Creation: We believe that everyone has something to learn and something to teach. We hope for this to be a co-created event in which participants can offer some bit of talent toward the project, while also remain open for new learned skills.
Fun / Adventure: We see life as full of options, and we live in excitement knowing that our lives are always changing.
Authenticity: We are an organization that accepts all cultures, values, and differences. We think for ourselves and are genuinely interested in what others have to say.
Passion: We are filled with a constant desire to improve ourselves by doing the things we love, no matter if they are against the status quo. We never settle.
Sustainability: We respect our environment and do our best to ensure that humans and nature can coexist.
Desert Canvas is the facilitator in helping influencers, businesses, and organizations in each city grow
Once per month at our community gathering we meet with the general public as well as influencers, businesses, and organizations that support our mission. In return, we support them by helping others become more aware of their organizations and/or movements through email blast to hundreds of our active members and marketing tips from experts to name a few. 
Because our Desert Canvas community ranges from tech startup entrepreneurs to yogis teaching mindfulness meditation, we can create an event that challenges, inspires, innovates, and brings positive healthy change to our city.
This means businessmen can step outside their comfort zones and learn about the arts of dance, yoga, and meditation… and yogis and artists can chat with those who may be involved in digital marketing or venture capital.  
Imagine if we could start this kind of conversation everywhere. Think of the new ideas and partnerships that would develop, and the positive conscious change we would get in our cities!
To unite us, we co-create a canvas.

We each provide our own unique skill, whether it's financing the canvas, decorating it, or helping to spread the word about the event. The canvas is the symbol that brings our community together.
Over the course of 11 months, 11 canvases will be developed, each with a separate meaning…leading us to our 12th and final canvas.
Our 12th canvas will be celebrated at a 4-day festival. This is where all cities participating in Desert Canvas would join to share their first 11 canvases and help co-create the 12th. The festival would include entrepreneurs showcasing their new products, professors giving speeches on scientific discoveries, artists showcasing their work, yogis teaching classes, and musicians sharing their music. 
Here are a few pictures from past FREE Desert Canvas community gatherings!
OUR completed canvas.

Vanessa donating her time and leading a yoga class for the local Phoenix community!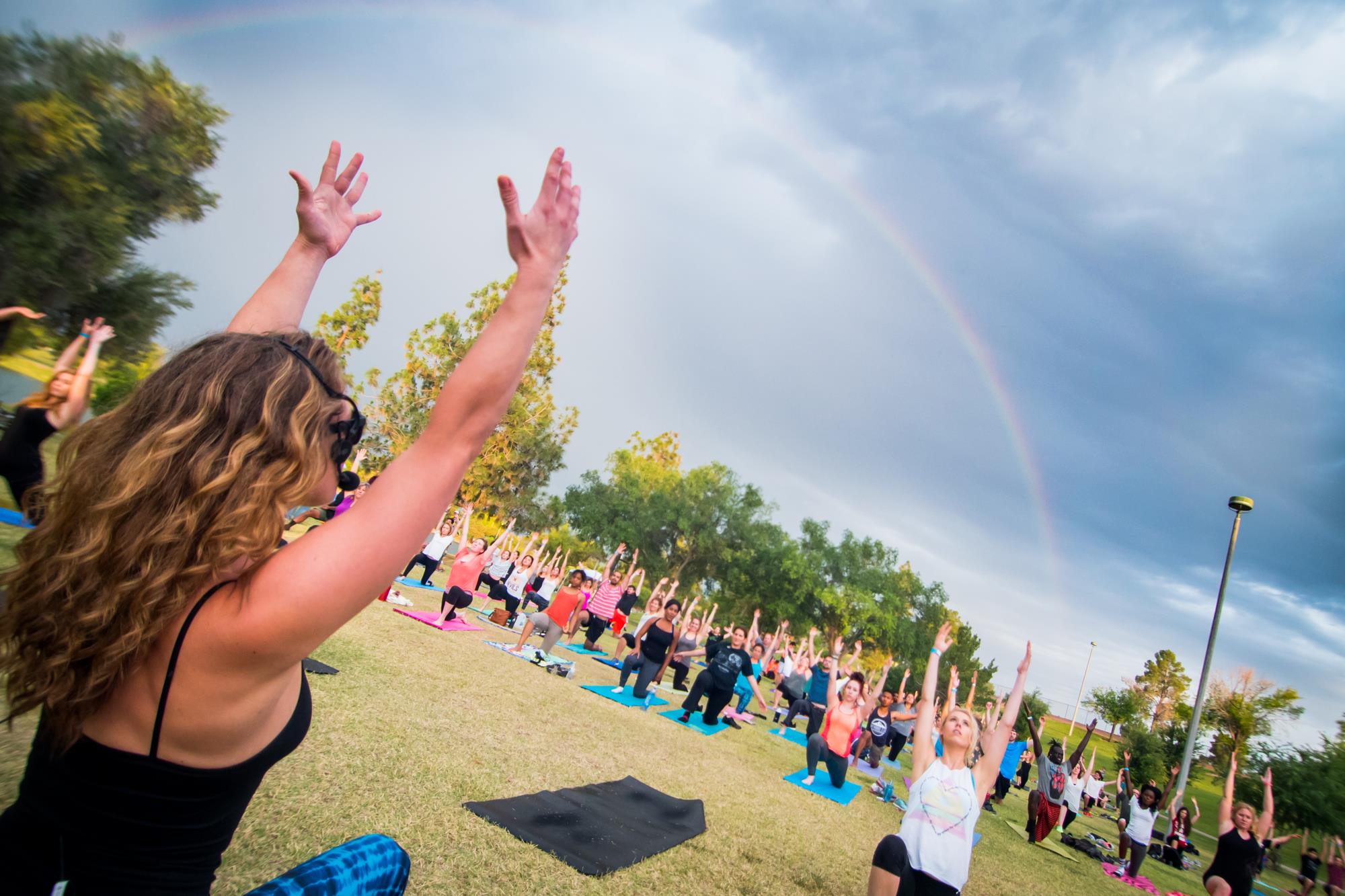 Helping this little one learn from an early age what community is all about!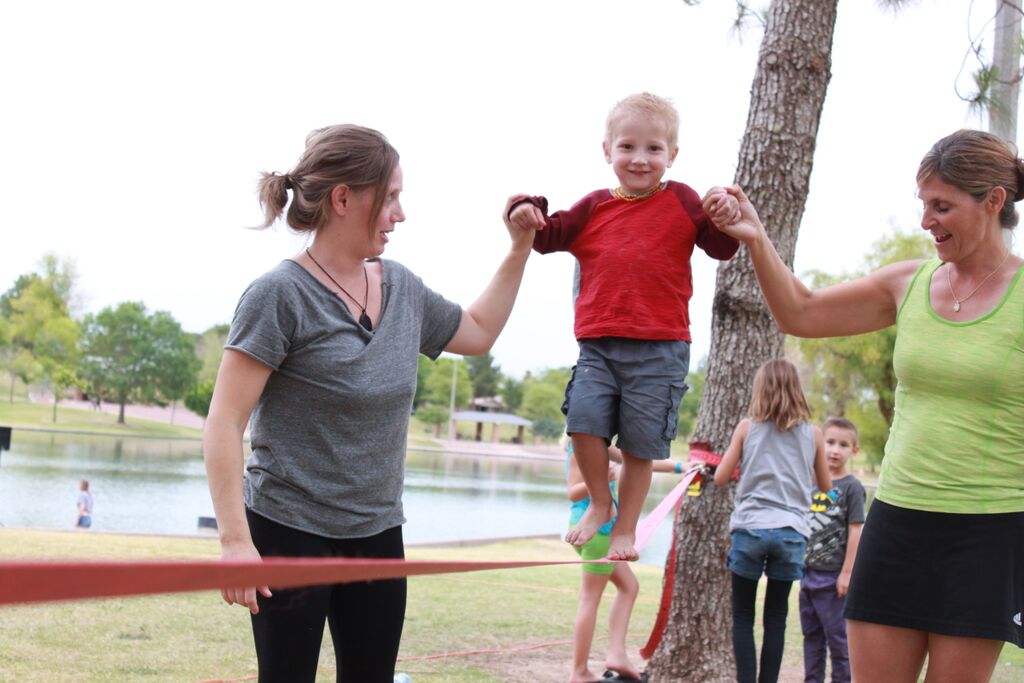 Steve and Alex donating their time and jamming out on the guitar!

Katherine donating her time and artistic abilities!

What can you do?
Okay, so now you've read this entire article. What's your takeaway?
My suggestion: embrace co-creation.
The sooner you accept that you can't do everything on your own, the better off you'll be. You'll start figuring out your specific strengths and talents, and noticing the talents of others. You'll build stronger relationships, and make things happen that are bigger than you could have ever imagined.
And who knows? Maybe you, your friend, and your idea will be the spark for an entirely new movement that could change the world as we know it.
Let us help you and your community!  Donate today and let's make positive change together! 
The following two tabs change content below.
Todd VanDuzer is co-founder and CEO of Student-Tutor, an inspirational leader and speaker for high schools and companies across the country, an avid rock climber, adventurer, world traveler, and more. He is driven by the need to help others go after their dreams by setting lofty S.M.A.R.T (specific, measurable, actionable, realistic, and timely) goals while having someone to hold you accountable. Todd is preparing to embark on a 5-year trip around the world in his van to help challenge, motivate, and inspire students to take charge of their lives. Follow Todd via Instagram or Twitter!
Latest posts by Todd VanDuzer (see all)