What?! You biked 673 miles?! Are you crazy, delusional, psychotic?
Perhaps…
It was a long ride. I had no plans. In fact I remember coming up with the idea of the trip in my "man cave," – my decked out garage with a bar, couch, and painted walls – only a couple weeks before I was cycling away.
I am not exactly sure how the idea came about but before I knew it I had booked my flight, shipped my bike, and was making my way down south, with San Diego as on my destination.
It was quite funny at first…riding up to people and asking for directions. Expecting to get the usual 'how do I get to such and such street,' they were quite startled when I asked for directions to San Diego. They usually questioned me several times as if I didn't know where I was going.
I mean I guess I really didn't know where I was going…
I was in San Francisco with no map, no direction, and no clue what I was about to get myself into.
Here are the 7 things I took away from this adventure. (You won't believe what number 7 is).
– – –
1. Power through and trust the process
I wasn't even out of San Francisco yet. Probably just short of 10 miles into the ride I started to question what the hell I was getting myself into.
I was biking up my first of many long hills. The hill was covered in fog, I don't think bikers were supposed to be on it, and my legs were burning.
But I had made a commitment to myself and I was planning on keeping it so I turned my i-phone to the most upbeat Pandora station possible and powered through. I trusted the process. I trusted in the journey.
The ride got easier and 73 miles later I caught up with some other cyclists doing the same thing as I was. Who knew other people would do such a thing! I was shocked, yet relieved. They welcomed me into their crew for the next couple days. We grabbed some amazing burgers together at a local brewery and set up camp in San Juan.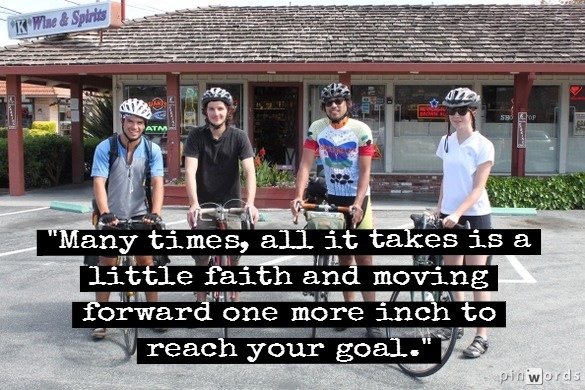 2. Taking a wrong turn isn't necessarily the wrong way
I had been biking for three days now and was determined to make it to Big Sur National Park before nightfall. So I said farewell to the group I had met the first day, picked up my speed, and headed off alone with only vague verbal directions.
I started biking up this huge hill, made it to the top, then took a slight right, left, ahhhh… where was I supposed to go next?
Ok… I was lost.
Knowing that the 101 freeway took you to San Diego I ignored the "no pedestrians or bikers allowed" sign and peddled my way onto the side of the freeway.
As one of the offramps got closer and I saw the street name, I mused, "funny it's the same as the start of that big hill's name." That's when it hit me… wait that is the same street.
I had just gone in a hilly 2-hour circle!
Needtheless to say, I didn't get to Big Sur that evening. But something else incredible did happen.
I camped at Monterey Bay, listened to the trumpets echo throughout the city for some traditional music festival, met a couple hippies and a migratory worker, and stayed up for several hours drinking beers and sharing stories.
The story the 58 year old, homeless, migratory worker told me changed my perspective on life forever…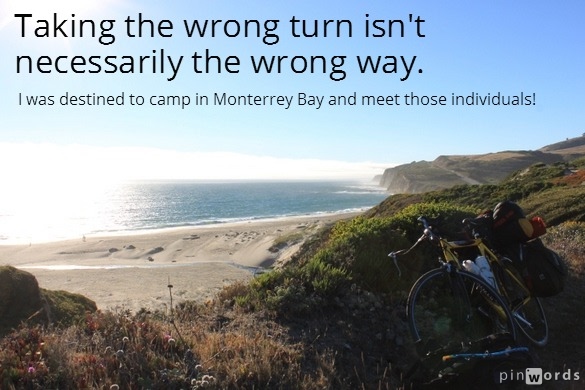 3. Neither night nor day is better. They are just different.
As John, the 58 year old homeless man, and I talked he described how his life has had 3 stages and each stage has occurred at least 3 times.
Stage 1: He didn't care about himself or anyone else.
These were the points in his life when he was homeless, lived on the streets, used the money he had for drugs, and honestly didn't care if he died.
Stage 2: He knew he could become someone.
This was the stage he was in when we spoke. He was still homeless but had a plan in place, was determined to get a job, no longer did drugs, and believed in himself.
Stage 3: He was someone and cared about himself and others.
This was the stage when he lived in a house, paid rent, had a car, earned at a steady job, and was content.
John continued telling me the story of his life and how he…
Migrated across all 50 states from job to job on a bicycle, by hitchhiking, or with public transportation or sometimes a car when he had the funds.

Never had a chance to truly get to know his daughter.

Experienced difficult times.

Never thought he would live past 20, then 30, but now he knew he would make it to 60!

Was currently on his way to Idaho for the 2nd time in the past couple months with a bicycle cruiser that had a small motor attached in search of work.
"The 2nd time?" I asked.
"Yes… well the first time I made it to San Francisco I had set up a place to sleep in the park and was robbed and mugged in my sleep by some other homeless guys. I was pretty beaten up and later found by the police who took care of me and sent me back to Monterey Bay, " John retold.
"It has been a couple months now and I am ready to make the trek again. I am not giving up. I plan on driving right through San Francisco this time though. Not staying in that damn city" he chuckled.
Then it shocked me…
After sympathizing with him he told me not to by stating something along the lines of… "I choose the life I live and I have loved every moment of it. Even though I may have not made the best decisions they built me to where I am today."
For every good time always came a rough time and every rough time always came a good time. He learned by embracing the rough times he was able to make it to the good times quicker. Those rough times build him to who he was today.
"It took me a while to realize that," John stated.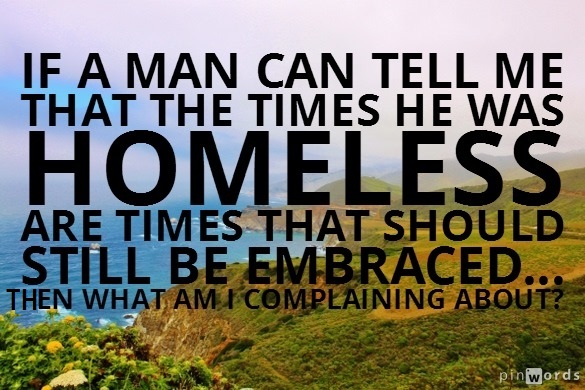 4. Age is a number
I got back on my bike and made my way to Big Sur. The hills were enormous. On some hills I would literally be peddling for hours in the highest gear.
The legs burned, my body ached, it was miserable.
After the long day of biking I made it to a campsite near the ocean where I met an elderly couple from Holland. They were in their late 60's and were bike-touring from San Diego to Seattle.
They were full of energy, had a tent set up with a comfy blow up mattress that they carried on their bikes and although they only biked 30-40 miles per day they were doing it. I was amazed.
They were in their late 60's and still performing strenuous activities that I in my 20's was struggling to complete.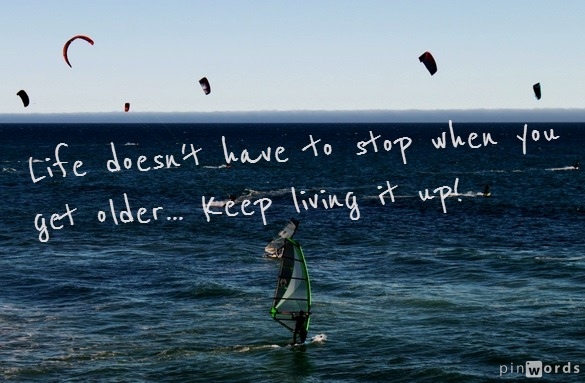 5. Life's like a box of chocolates; you never know what you are going to get 
I woke up early the next morning and made my way for San Luis Obispo. The next day was the 4th of July so I was hoping to take the day off and celebrate it on the beach.
I ended up finding a cool little hostel nestled in a small neighborhood and they still had room!
I checked in, took a quick nap, and went out to the common room to see if I could make a friend or two. I made several.
The following evening right before the fireworks were about to go off we climbed up a huge hill nearby the hostel that overlooked the entire city, shared beers, danced to music, and watched the fireworks with people from all over the world. It was like a movie.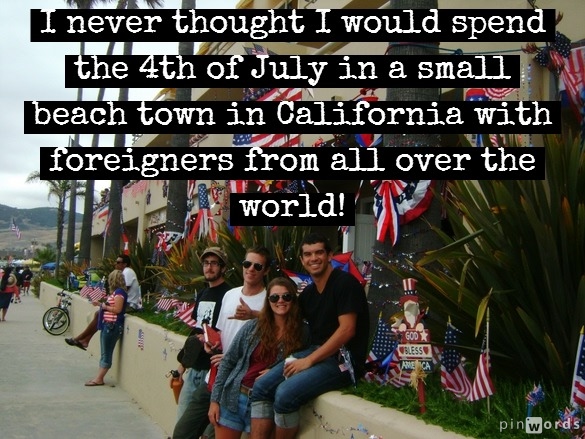 6. The world is not a scary place out to get you
I woke up the next morning with a slight hangover, but still got on my bike, powered through, and trusted the process.
A couple hours into the bike ride I saw another bike tourer so I rode up alongside of him and started chatting. His name was Eric and he was a financial analysis at Google. An MIT grad, he was biking from San Francisco to Santa Barbara for a small holiday.
We biked to a campsite right outside of Santa Barbara and set up for the evening. I was hungry and needed food after biking 90 miles that day but had nothing. The store that was at the campsite was closed and we were too far away for delivery. Eric would have given me some of his food but he was short as it was.
My only option was to start going up to fellow campers and beg for food. It didn't take long before a neighboring campsite took me in and cooked me an entire meal as I shared my biking journey with them.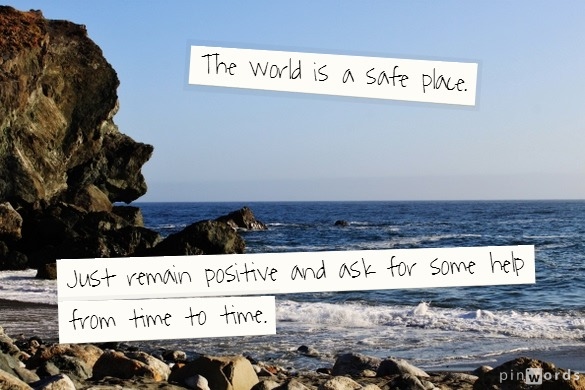 7. Most people in the world basically want the same things
The bike ride continued and so many other crazy experiences which I don't have the time to share occurred.
I biked past…
San Francisco, Santa Cruz, Monterey Bay, Moro Bay, San Luis Obispo, Santa Barbara, Ventura, Malibu, Santa Monica, Hermosa, Redondo beach, Long Beach, Huntington Beach, Newport, Laguna, Dana Point, San Clemente, Oceanside, and San Diego to name a few.
I lived and stayed…
In random fields, campsites, a hostel, old friends' and family's apartments.
I met and interacted with…
People of all ages, some of whom were homeless, other fellow bike tourers, foreigners traveling the world, old high school friends, family, and even a post graduate from MIT working at Google.
And you wouldn't believe what I discovered…
673 miles later I got off my bike, limped my way over to meet my father in the parking lot in San Diego, gave him a big hug and realized that people basically want the same things.
Everyone spends most of their time worrying about food, money, and their job.

Everyone wants to fit in and feel wanted.

Everyone has insecurities and is scared to be their true selves.

No one likes to look stupid or be told they are not good enough.

And everyone just wants to be loved.
So power through and trust the process.
The world is not out to get you. Things will work out.
With no directions, plans, or idea of what I was getting myself into I biked through half the coast of California alone and came back not only in one piece but with experiences that shaped my character for the better.
Which lesson is your favorite? Please comment below and let me know!
The following two tabs change content below.
Todd VanDuzer is co-founder and CEO of Student-Tutor, an inspirational leader and speaker for high schools and companies across the country, an avid rock climber, adventurer, world traveler, and more. He is driven by the need to help others go after their dreams by setting lofty S.M.A.R.T (specific, measurable, actionable, realistic, and timely) goals while having someone to hold you accountable. Todd is preparing to embark on a 5-year trip around the world in his van to help challenge, motivate, and inspire students to take charge of their lives. Follow Todd via Instagram or Twitter!
Latest posts by Todd VanDuzer (see all)